Division of Molecular & Genomic Pathology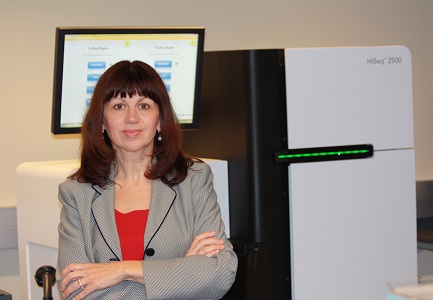 The Molecular and Genomic Pathology (MGP) Laboratory is a College of American Pathologists (CAP) accredited and Clinical Laboratory Improvement Amendment (CLIA) certified laboratory that conducts over 30,000 tests annually. The MGP laboratory is committed to developing and offering state-of-the-art diagnostic and prognostic molecular and genomic assays to provide the highest quality of patient care in the fields of inherited diseases, hematological malignancies, and solid tumors. Our cutting-edge molecular testing platforms and informatics approaches are exemplified by next-generation sequencing using both ThermoFisher and Illumina platforms. Our faculty and staff are experts in molecular pathology and provide the most advanced laboratory support for personalized medicine.
Our solid tumor testing provides a personalized molecular profile for individualized therapy, diagnosis and prognosis for patients with tumors including thyroid cancer, brain tumors, lung cancer, colorectal cancer, melanoma, hepatocellular carcinoma, and pancreatic cysts. Our UPMC Oncomine pan-cancer Next-Generation Sequencing (NGS) panel is offered for most solid tumors and allows for simultaneous detection of SNVs, Indels Copy Number Variation, and Gene Fusions within 161 cancer driver genes, calculation of sample Tumor Mutation Burden (TMB) and assessment of Microsatellite Instability (MSI) status. In addition, our laboratory offers other unique Next-Generation Sequencing tests including GlioSeq®, a NGS panel for brain tumors used to assist in diagnosis, prognostication, and treatment of adult and pediatric CNS tumors and PancreaSeq®, a NGS panel for the assessment of pancreatic cyst fluids to aid in the diagnosis of pancreatic cysts. The MGP laboratory also offers ThyroSeq®, the most accurate testing for the pre-operative assessment of thyroid nodules with indeterminate cytology and accurate assessment of cancer probability in a given nodule.
In the field of hematological malignancies, our TruSight Myeloid Sequencing Panel from Illumina is used for massively parallel sequencing of hotspots within 54 myeloid-related genes, including CEBPA. This panel is designed for the assessment of a wide variety of genes involved in myeloid disorders, including AML, MDS, and MPN. Additionally, we offer testing that can provide diagnostic information for B and T cell clonality, testing for the presence of BCR/ABL and PML/RARα rearrangements, and testing for the JAK2 V617F mutation. In addition, tests with prognostic implications including FLT3 mutation analysis, quantitative NPM1 mutation analysis for MRD, and IgH somatic hypermutation status, are also available in our laboratory.