Division of Molecular & Genomic Pathology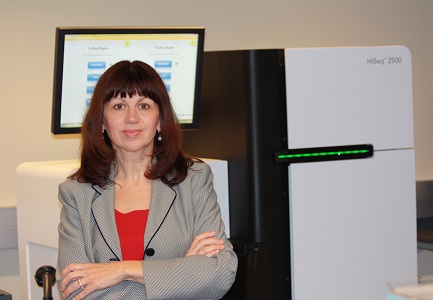 The Molecular and Genomic Pathology Laboratory is accredited by the College of American Pathologists (CAP) and CLIA, and currently conducts over 12,000 tests annually. We are committed to developing and offering state of the art diagnostic and prognostic molecular and genomic assays to provide the highest quality of patient care in the fields of inherited diseases, hematological malignancies, and solid tumors utilizing cutting edge molecular testing platforms and informatics approaches exemplified by next-generation sequencing.
Our solid tumor testing provides a personalized molecular profile for individualized therapy, diagnosis and prognosis for patients with tumors including thyroid cancer, brain tumors, lung cancer, colorectal cancer, melanoma, hepatocellular carcinoma, appendiceal tumors, and pancreatic cysts. An expanded cancer panel is also offered for most solid tumors and includes 50 genes tested by next-generation sequencing technology. In addition, in cases of a patient with two tumors, we offer LOH testing to determine whether these tumors represent two primary tumors or metastatic disease.
In the field of hematological malignancies, we offer testing that can provide diagnostic information such as testing for B and T cell clonality, testing for the presence of BCR/ABL and PML/RARα rearrangements, and testing for the JAK2 V617F mutation. In addition, tests with prognostic implications including FLT3 mutation analysis, NPM1 mutation analysis, and IgH somatic hypermutation status, are also available in our laboratory.
Genetic tests are offered for inherited mutations involved in RETT, Multiple endocrine neoplasia (MEN2A/2B), and von Hippel-Lindau (VHL) syndromes; genetic testing for disorders such as hypercoagulability, hereditary hemochromatosis, pancreatitis, and malignant hyperthermia; genetic testing to identify expansions of trinucleotide repeats in Huntington, Fragile X, and Kennedy disease; and genetic testing for genes implicated in neurological/mitochondrial diseases such as Spinal Muscular Atrophy (SMA), MELAS/MERRF/NARF, and POLG-mutation associated disorders.