Oncomine
Test Description
The UPMC Oncomine assay is a targeted next generation sequencing assay that allows for simultaneous detection of genomic variants within 161 cancer driver genes and calculation of sample Tumor Mutation Burden (TMB). UPMC Oncomine assay assists in diagnosis, prognostication and treatment of adult and pediatric solid tumors.
Oncomine Advantage
Large Pan-Cancer Panel
Small Sample Size
Fast Turnaround Time
Test Details
Amplification-based NGS sequencing of DNA and mRNA
Uses commercial Oncomine Comprehensive Assay v3 panel from ThermoFisher Scientific to sequence clinically relevant genes for SNV and indel mutations, copy number alterations, and fusions in 161 cancer driver genes
Calculation of sample tumor mutation burden (TMB)
Can be performed on small tumor biopsies
Aids in prognostication and treatment of many solid tumors
Offers a fast turnaround time (10-14 days)
Genes Assayed by Oncomine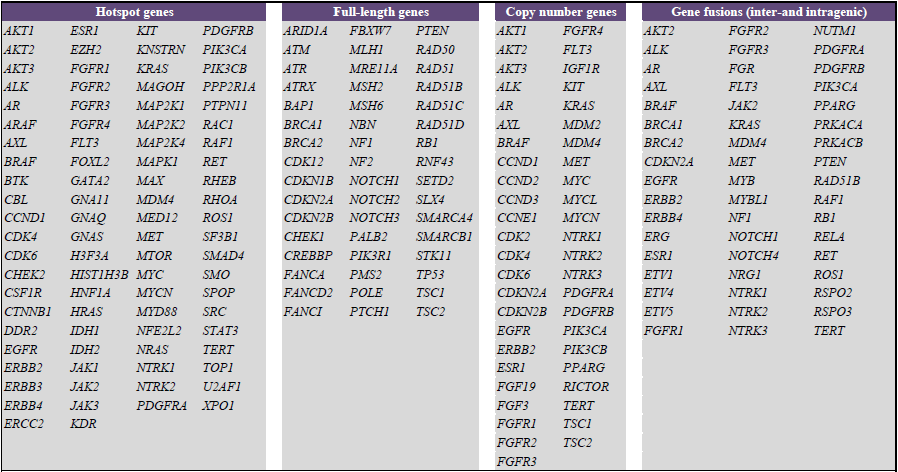 Background
The UPMC Oncomine assay is a targeted comprehensive NGS panel designed to detect multiple alterations across a wide spectrum of tumor types. These alterations include Single Nucleotide Variants (SNVs), Insertions/Deletions (indels), Copy Number (CN) alterations, and Gene Fusions covering 161 of the most relevant cancer driver genes.
Specimen Requirements
Paraffin Embedded Tissue Sections
Tissue should be fixed in formalin and not exposed to decalcification solution. The paraffin block should contain no less than 3 mm area of tumor.
Slides should prepared by histology using a specific protocol for cutting molecular sections to avoid contamination of the tissue sections.
One H&E and 6 unstained sections are required. Ten unstained sections or more are required if the tissue is small. Please call the lab if you have questions.
Slides should be properly labeled with a block label that matches the surgical pathology specimen number on the surgical pathology report.
Slides should be sent ambient temperature in proper storage containers (plastic slide boxes) to protect them during shipment.
A surgical pathology and/or cytology report and completed requisition for must accompany all specimens.
Frozen Tissue
A minimum of 2 x 2 x 2 mm of frozen tissue is required; however, 5 x 5 x 5 mm is optimal.
Collection date and time should be stated.
Tissue specimen containing at least 50% of tumor cells can be either placed into cryogenic tube and snap frozen in liquid nitrogen, or placed into a tube with preservative solution provided by the Molecular & Genomic Pathology laboratory (request solution from the lab) and frozen at -20°C.
Ship overnight on dry ice. A surgical pathology and/or cytology report and completed requisition for must accompany all specimens.
Turnaround Time
10-14 days
Billing Information
For insurance or institutional prices, please call.